VHS, Betamax, Hi8, MiniDV, Betacam and more in HD or 4K
Domestic Tape prices in HD
1-4 tapes = £65 per tape
5-9 tapes = £58 per tape
10-39 tapes = £55 per tape
40+ tapes = £52 per tape
VHS, Betamax, Hi8, MiniDV, Betacam and more in HD or 4K
Domestic Tape prices in HD
1-4 tapes = £65 SALE £48.75 per tape
5-9 tapes = £58 SALE £43.50 per tape
10-39 tapes = £55 SALE £41.25 per tape
40+ tapes = £52 SALE £39 per tape
A higher definition of video tape transfer.
Discover the incredible video restoration services at Alive Studios, where true-to-life picture and sound quality awaits you. With our advanced HD/4K AI Upscaling Technology, your videos will undergo a magical transformation, elevating their visual and auditory appeal.
Get ready to turn your living room into a cinematic experience! Alive Studios brings together a comprehensive suite of restoration technologies, offering you an unparalleled transfer service.
Our cutting-edge AI upscale and restoration system specializes in leveraging temporal information to deliver remarkably cleaner videos with enhanced sound. Whether you have videotapes, DVDs, or any video files, we can transform them into pristine, fully restored HD or even breathtaking 4K videos.
Our skilled editors scan through your footage, diligently removing unwanted clips such as floor filming, blue-screen breaks, or TV shows. Next, our experts perform expert color correction, enhancement, and noise removal. Finally, our AI technology analyzes and enhances every intricate detail. Whether you're dealing with older SD clips or challenging footage lacking detail or suffering from heavy noise, our AI video restoration can achieve astonishingly superb results. We believe our videotape restoration system is the best in the world, offering exceptional value for the price.
Video tape to Digital USB
Living in 2023, Alive Studios goes beyond the traditional transfer of videotape to DVD. We provide a more convenient and modern approach by transferring your videos to USB Stick and uploading them to the dynamic Alive Cloud. This empowers you to effortlessly share your films with friends and family, creating meaningful connections and unforgettable moments.
Money-back guarantee; you will only pay for tapes we can transfer, so in the unlikely event they are not what you thought they were, you won't pay a thing.  We don't charge for tapes which are blank or have been recorded over with unwanted TV recordings.
Easy to understand pricing:
Video tapes are charged per item no matter the length.

Experience the remarkable video restoration services at Alive Studios today and rediscover the joy of reliving your cherished memories in stunning quality.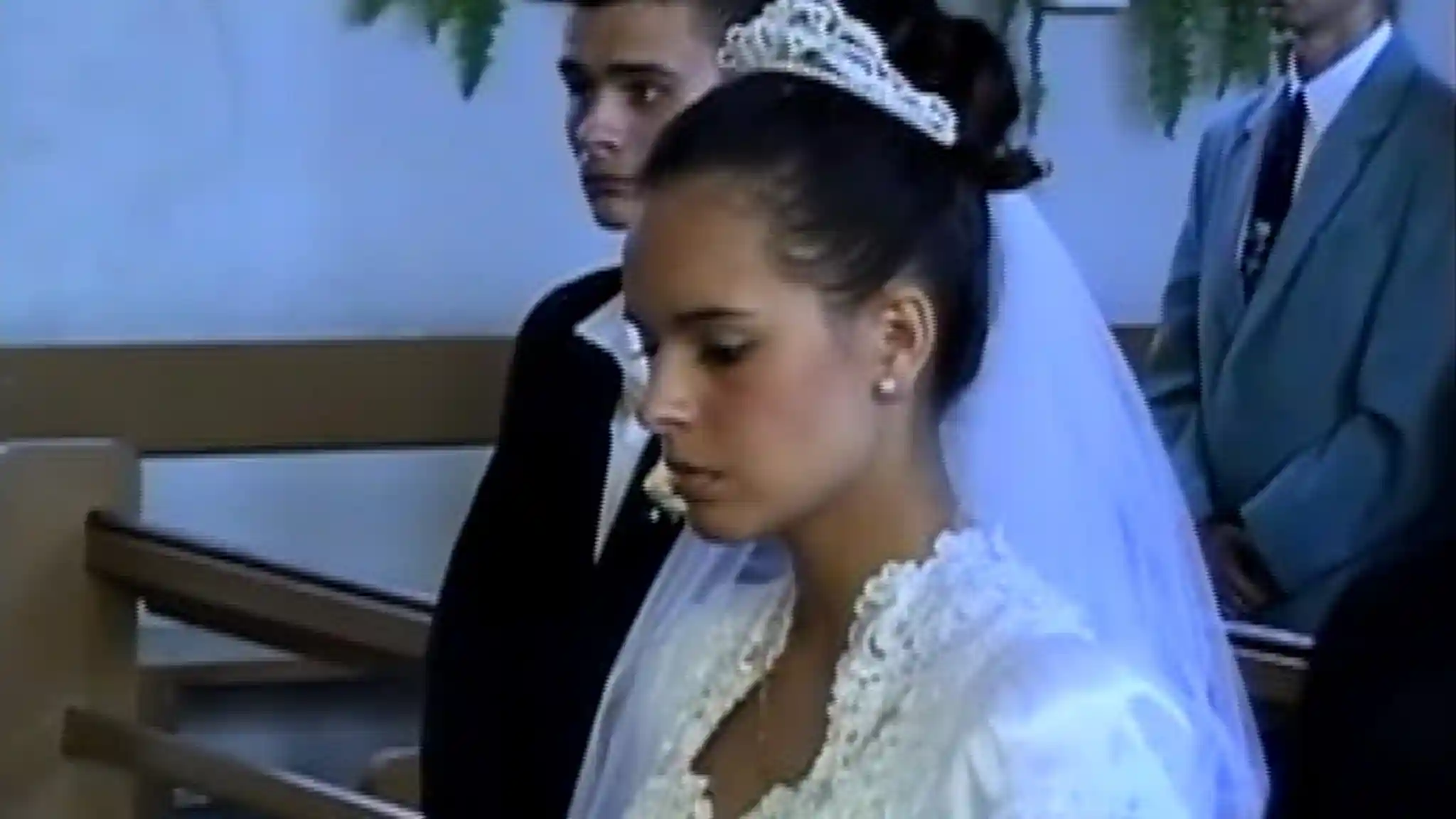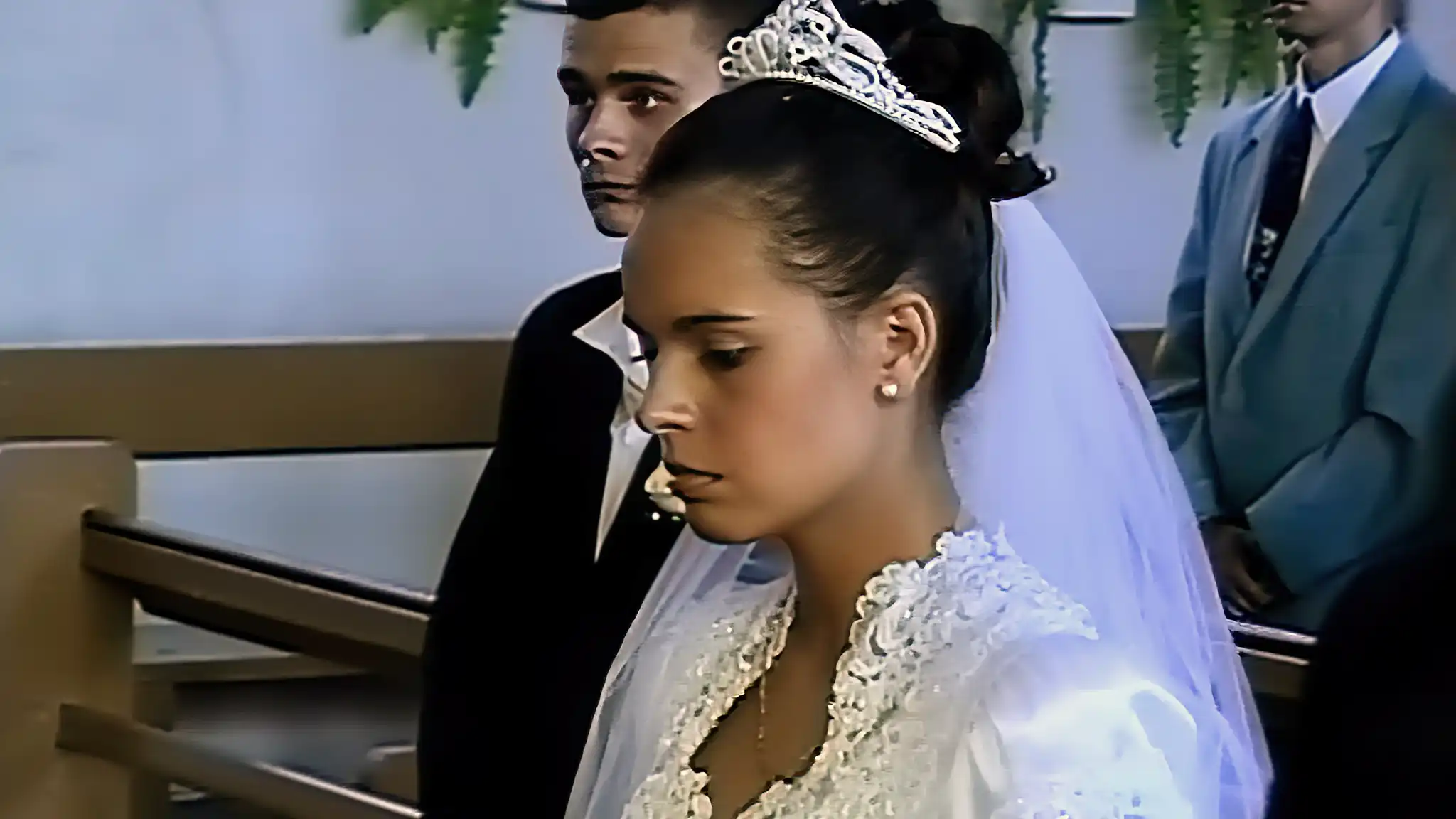 VHS to DVD vs VHS to HD AI Upscale
Free collection and delivery
We are happy to arrange for our courier to collect and deliver your films from your work or home address. We'll provide you with a convenient one-hour time slot by text and/or email.
Delivered in HD or 4K UHD
DVD is standard definition (SD), which should not be used on modern TVs the quality is simply too low. We use HD, which has 5 x the mega-pixels of SD, or Ultra HD, which has over 20 x the mega-pixels of SD. Phew!
All tapes are cleaned
One of the things that makes our transfer superior to others is the cleaning process we undertake prior to transfer.  Our decks also feature continuous head cleaning even as the tape is being transferred. 
AI Video Restoration
We now use Artificial Intelligence to colour-correct and restore the video. This time-aware enhancement system sharpens and de-noises video while recovering incredible amounts of detail. 
Free 14 Day AI Movie Hosting
All films we transfer for you are uploaded to our password-protected Alive Cloud; our AI analyzes and indexes your film library, letting you search for speech, text, people, vehicles, sounds and more.
Supplied on USB stick
Your films will be supplied in MPEG-4 format on a USB Stick. Plug into your TV to enjoy on the big screen. Then pop it into your computer to re-order, rename, and edit. Add your titles, music etc., to create amazing films.
Read more independent reviews on eKomi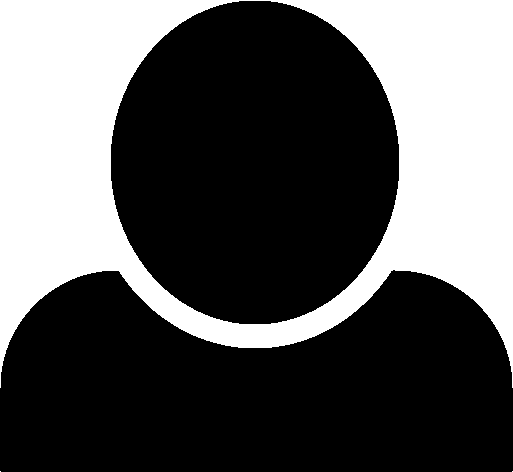 Mr Chignell
The service with Alive is always first rate - they couldn't be more helpful and the work is outstanding.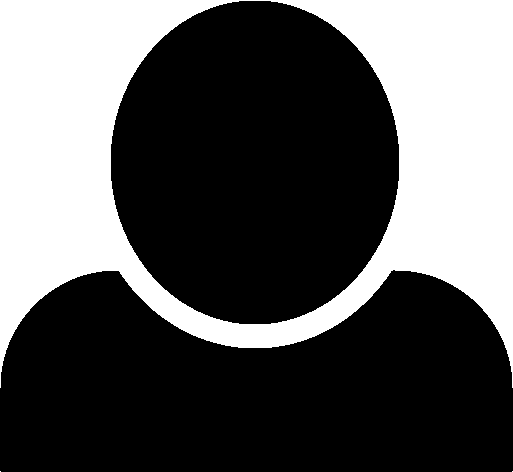 Mr Barnes
Had an old VHS tape with something important on it: it was just 30 seconds' worth but completely irreplaceable. In recent years when I played it, the image would 'jump'. And the jumping was getting a lot worse... so I sent to Alive Studios for a transfer to digital. I was genuinely relieved when they told me they had solved the problem (apparently it was not straightforward to sort, either). Now pleased to report that the clip is entirely sorted and I no longer need to worry about a tape deteriorating.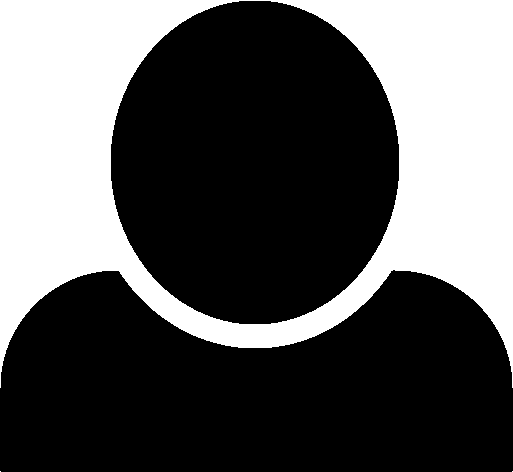 Mr Lester
I was very satisfied with my order procedure, the customer support, and the end results were far better than I expected.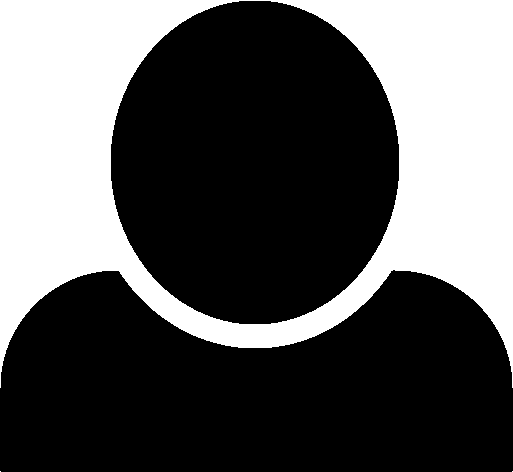 Mr Davies
Great website that was attractive to me as a professional. Order procedure was well thought through and the step-by-step approach helpful. I did make an error, but it was possible to chat this through on email and that was friendly and reassuring. The courier service was brilliant and the level of tracking reassuring for the unique tape I sent through. The transfer itself is of high quality and the output to the web helpful pending the return of the file. Loved the fudge, a nice touch with the returned media.
It's Netflix for your home movies
Want to share your precious home movies on the cloud, and access them on the go?
Well, you're in luck because Alive Cloud is available to all customers, and it's free for the first 14 days! (free hosting allows for upto 10hrs of video).
Access your videos anytime and anywhere by logging in via your computer, phone, or tablet. How cool is that?
The best part? Our advanced AI technology automatically indexes your videos, making it super easy to search for specific moments. Want to find that cute clip of your furry friend? Simply search for "dog" and voila!
But wait, there's more! You can also log in online to make changes to the titles of your movies, add descriptions, and even create multiple user logins for your loved ones all over the world. Share your favourite memories with your friends and family, no matter where they are.
Starts from £22/year.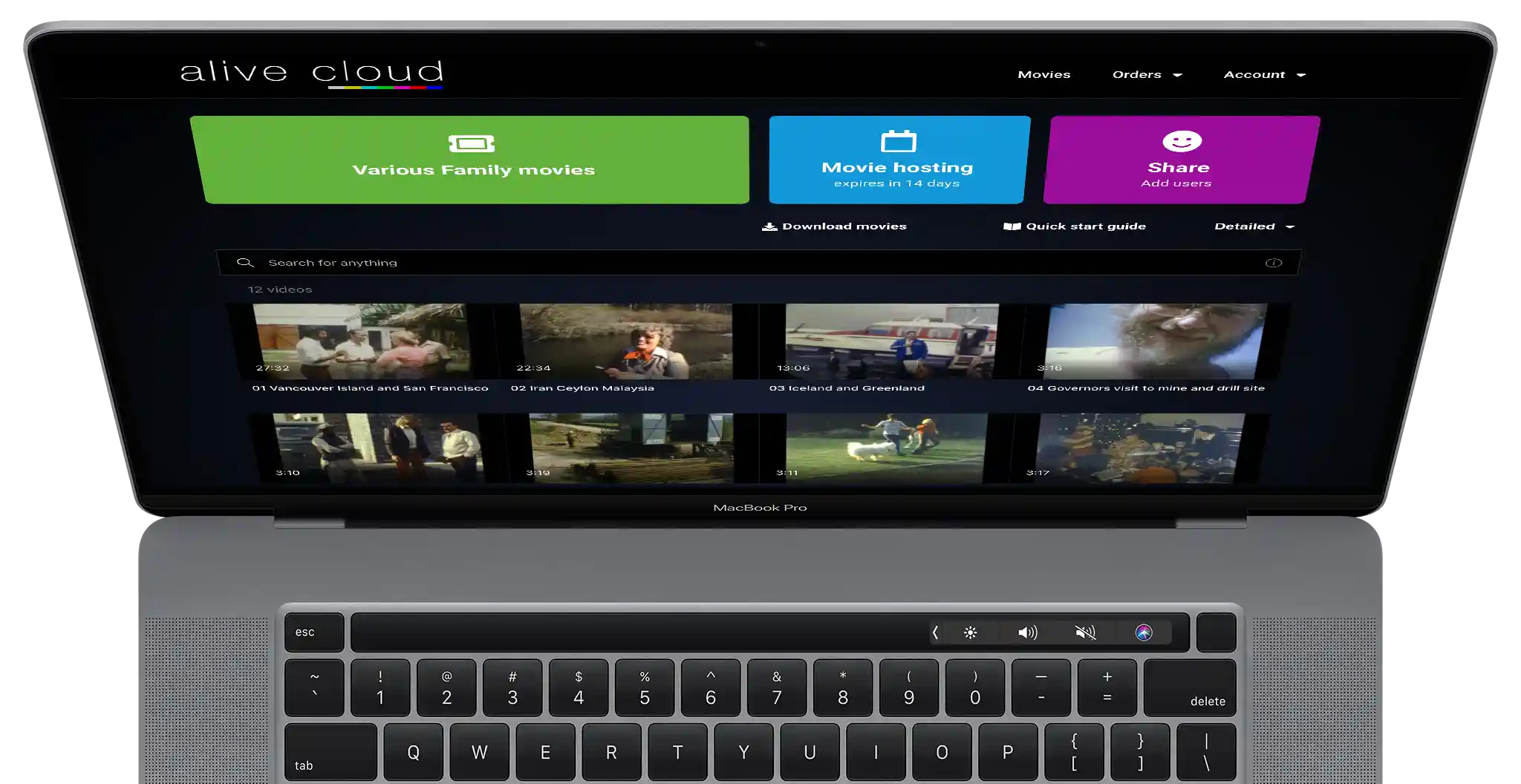 Print off the order form.
Wrap your films securely and place them in a box/Jiffy bag with your order form.
Send at the post office, or use our FREE courier collection service.

Or order by Phone
Speak to one of our friendly team at the studio who will do everything for you.
Lines are open 9.00 am to 5:30 pm weekdays, and most Saturdays Tel: 0800 0830561
We are happy to arrange for our courier to collect your tapes from your work or home address. We'll provide you with a convenient one-hour time slot by text and/or email. The collection is completely free for any size order. (UK mainland only, Scottish Highlands & Islands at extra cost).
Delivery back to you is completely FREE on ALL orders, no matter how large or small. As with our collection service, we even provide you with a precise one-hour delivery window, so you don't have to wait in all day.
Get a quote & build your order
Use the handy "save for later" feature to return anytime.
Serving over 24,000 customers