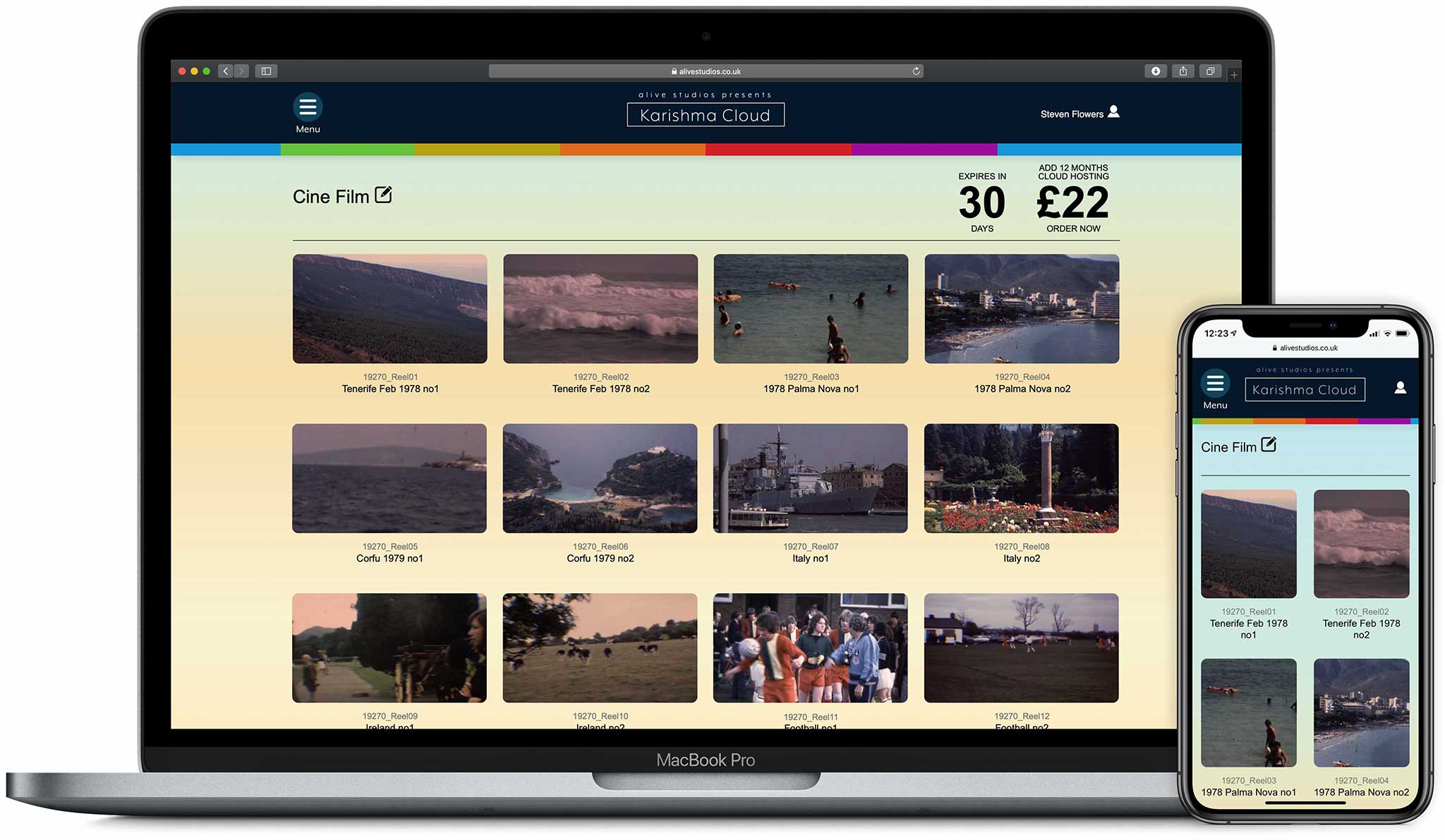 What is "Karishma Cloud"?
Imagine if we took all your old home movies; cine film, video and camcorder tapes, and we remastered them into HD and even 4K films. Now imagine you can access these amazing memories from your Computer, iPad, Phone, Smart TV… Anytime, Anywhere!
You get your FREE Karishma Cloud account the minute you become a customer. All films we transfer for you are uploaded to your Karishma Cloud Gallery, with FREE ACCESS for the first 30 days of each order, with an option to add 12 months extra hosting for just £22 – that's less than £2 per month! We are changing the way the world enjoys their home movies, and we invite you along for the ride…
Unlimited Cloud Hosting £22 a year!
Keep your movies on the cloud forever! with Karishma Cloud movie hosting – just £22/year Alive Studios now offer a permanent hosting solution so you can keep all your home movies on the cloud, ready to be accessed ANYTIME, ANYWHERE! Now you, and your friends and family, have constant access to every film we transfer for you.  You do not pay per order. You just pay once for the year, and then every single order you place within that year will be covered by your hosting plan.
Karishma Cloud now has over 5500 users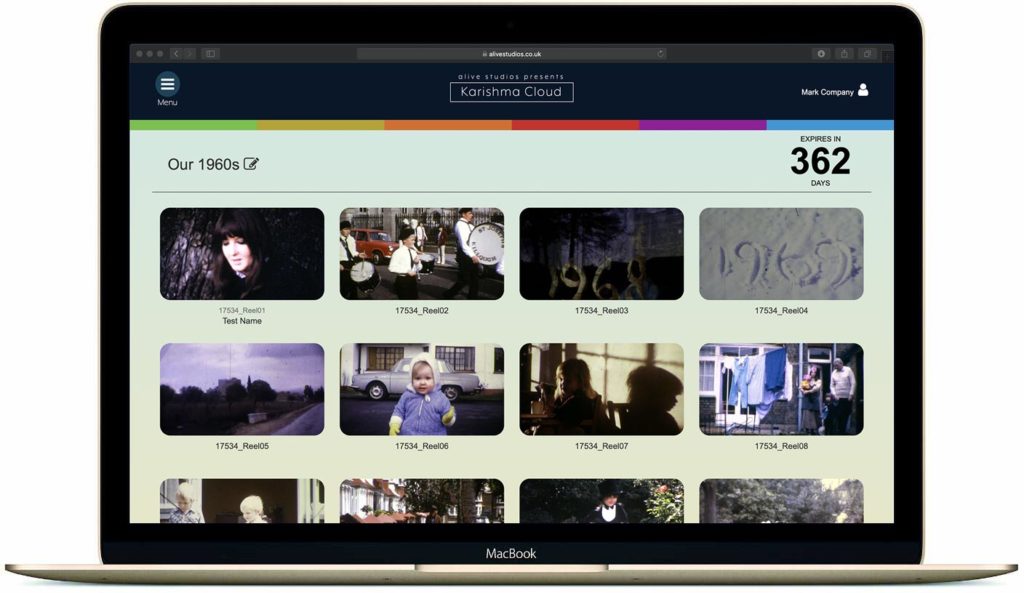 Login from any browser (Mac or PC) to access your Karishma Cloud account. Here, you can book a collection to send more film to us for transfer, or view and makes changes to your existing movies. A full order management system, you can chat with your editor, check progress of the work, track the pickup and delivery of your films and so much more.
Then, watch your films in full-screen HD, change the running order, add movie titles and descriptions, create users and send invitations to family and friends so they too can share in the fun of re-living those precious recollections of times gone by.
Go to the App store on your device and download the free APP for your phone or tablet (Apple, Android or Amazon Fire).
Now you can take your memories with you and enjoy watching your beloved home movies wherever you are. Bring family visits to life by taking along your phone or tablet to share your treasured memories with your whole family, then leave them with their own login to carry on enjoying after you've gone home.
We've made a super-easy APP to access all your movies at the touch of a button. Enjoy watching directly on your device, or cast the movie to a big screen TV using any Smart TV, Apple TV, Amazon Fire TV, Google Chrome Cast etc.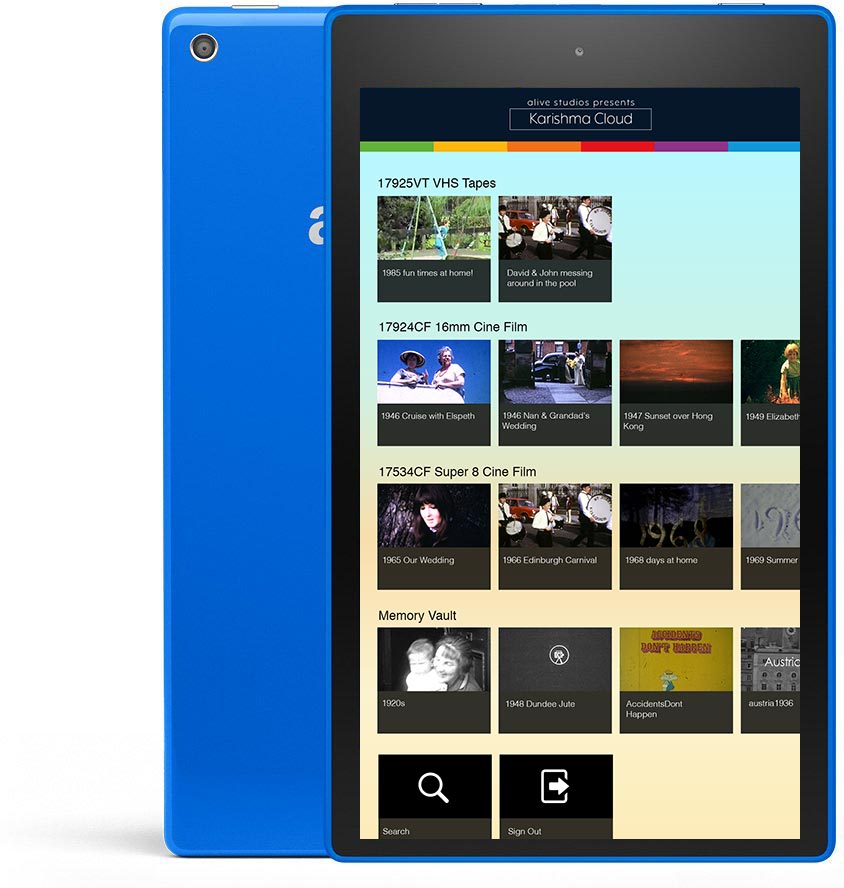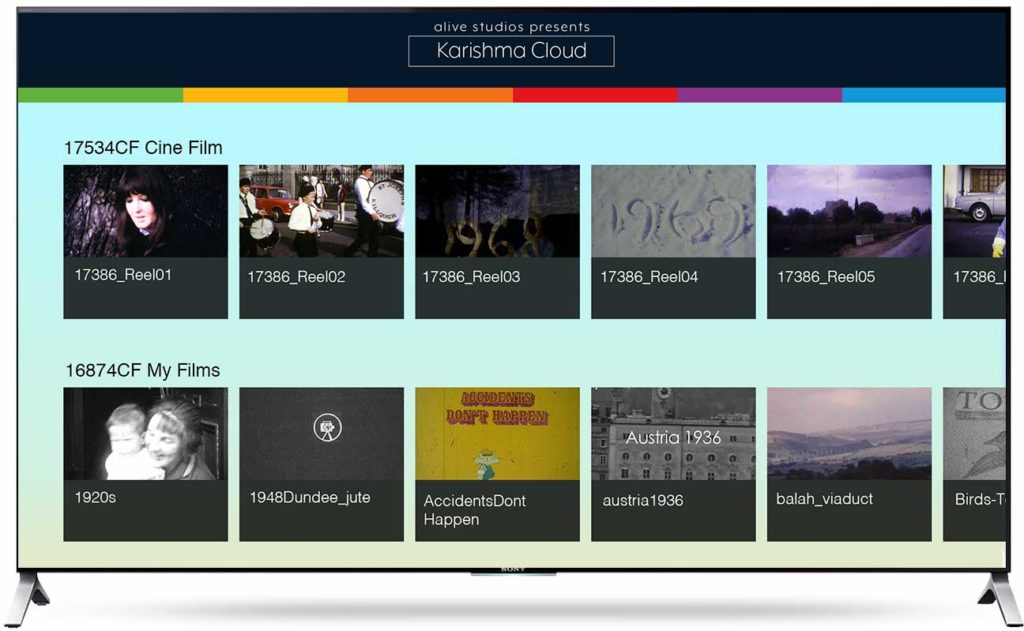 Alive Studios have just launched the worlds first TV APP for accessing your treasured old home movies directly on your Television!
Available for Android Smart TVs, Apple TV, Amazon Fire TV Nvidia Shield, or any Android TV streaming box.
it's like Netflix, only this time, the star of the show is you!